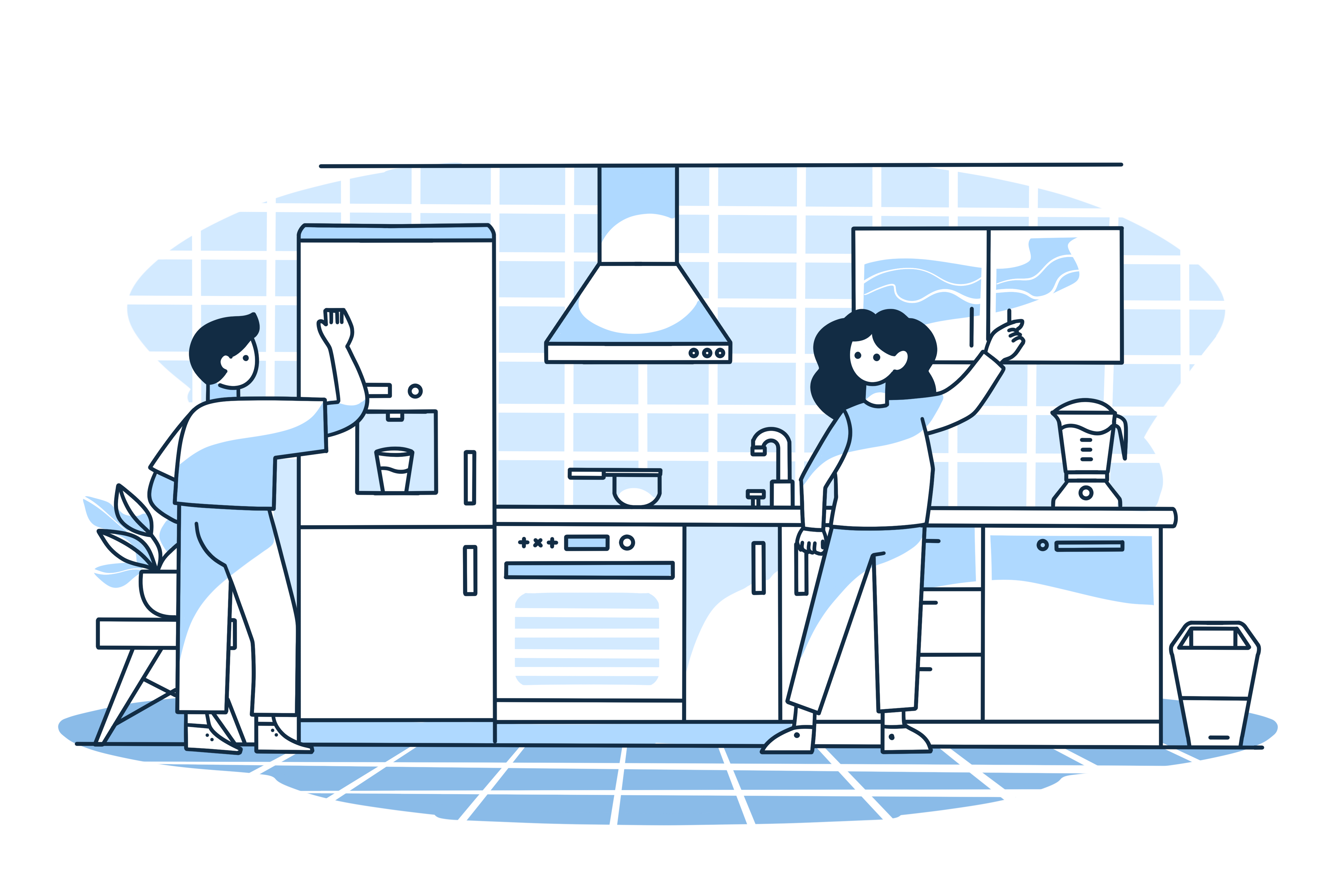 1
Meets any design requirements, whether simplistic, premium or discrete with clean surfaces
2
Barrier and freewheeling functions ensure safety for the whole family, even when there is no adult in the kitchen
3
Providing natural, mechanical touch-sensory feedback in every smart kitchen device.
4
Ticks and stops make kitchen appliance operation simple and intuitive, so nothing gets in the way of the favorite recipe
Why haptics in kitchen appliances is so important
Grease splashes, wet fingers, complex device menus & children's hands on hot surfaces – especially when you're in a hurry, the dream kitchen quickly becomes a cooking nightmare. But cooking can be so much easier. Let us give you some ideas on how you can use HAPTICORE and its smart haptic feedback to make the operation of your kitchen appliances simple, safe, and intuitive.
Products are becoming increasingly versatile, more connected, and offer a wide range of additional functions – and this trend has also arrived in the kitchen.
But especially when it comes to cooking, where many things happen at the same time and hands rarely stay dry and clean, the need for easy-to-use HMIs is essential for a pleasant cooking experience. This poses a major challenge for OEMs since mechanical switches and rotaries are not capable of handling the desired degree of complexity anymore, whereas touch displays simply do not offer a comparable level of precision and control.
But with HAPTICORE, we give you the best of both worlds – programmable haptic feedback for the simple, safe, and intuitive operation of complex multi-layer user interfaces. And HAPTICORE is much more than just a haptic rotary switch. It can offer a whole new level of guided cooking, make the user experience of connected smart home devices even more seamless, and thanks to smart haptic feedback modes, can make cooking safer for the entire family.
What challenges in the kitchen we address with HAPTICORE
Highest quality in hardware and software for a superior smart cooking experience
There are few rooms that are used as intensively as the kitchen. That's why the focus is not just on functionality, but also on inspiring and equally timeless design – both in terms of product and user interface design. But we live in a time when devices offer more and more functions and operation becomes increasingly complex. For this reason, there is a need for innovative operating solutions to ensure the ease of use of new smart functions, while meeting the unique challenges of the kitchen environment.
With HAPTCORE and freely programmable haptic feedback, you bring back simplicity and intuitiveness to your kitchen appliances – without compromising on product design. We've designed our HAPTICORE products to be adaptable to your product design, thanks to various mounting options and custom covers. This way, HAPTICORE can become a highlight or disappear within the surface of your appliance to give space to clean lines and flat surfaces. At the same time, its robust materials and premium finish ensures easy cleaning, fingerprint resistance, and durability for an entire kitchen lifetime!
Our HAPTICORE rotary haptic actuators are available in a variety of configurations to seamlessly fit into your kitchen appliance design.
Maximum user control of your kitchen appliances through mechanical haptic feedback
HAPTICORE makes the use of your kitchen appliances not only easier and more intuitive but also safer. Safety in the kitchen is an important topic and especially relevant for families with young children.
You can use HAPTICORE for parental control, for example, and physically lock the controls of your devices via a smartphone app when there is no adult in the kitchen, or design a safety lock that requires the input device to be rotated with a specific torque to unlock it.
Our software solutions offer a wide variety of options to create intricate haptic feedback functions for any situation. Learn more about our HAPTICORE software solutions.
Make your kitchen childproof and mechanically lock the operation of your kitchen appliances with the lock or freewheeling function.
Haptic feedback for an easy and safe smart cooking experience
Turn, press, serve, and enjoy. Smart cooking can be this simple, and HAPTICORE makes guided cooking even more intuitive and safe. Assist your customers in every step and help them to achieve perfect cooking results through haptic feedback.
Make use of increased tick force for additional guidance, whether it's setting the temperature of the oven, adjusting the speed of the blender, or simply setting the exact right timer. And if your customers choose to make individual settings on the recipe, that's no problem either, as with HAPTICORE they retain the full control and precision of a classic, mechanical rotary switch.
Recipe-dependent, cross-device haptic feedback provides a consistent, intuitive user experience and makes cooking easier than ever before.
Cross-device control with appliance specific menus and smart haptic feedback
With software-based, freely programmable haptic feedback, HAPTICORE brings cross-device operation into the kitchen for a unique smart home experience. Start, operate, and stop any kitchen appliance from any connected device and offer your customers a consistent user experience with familiar haptic feedback and distinctive user interfaces.
And the more devices integrate into the smart home system, the easier it gets. With smart haptic feedback, your customers can intuitively adjust appliance settings at any time, in any room, and from any connected device.
Preheating the oven already on the blender? No problem! Equip your smart cooking appliances with perfectly tuned menus and consistent haptic feedback for a completely new guided cooking experience.
Schedule a Free HAPTICORE Demo
Experience programmable haptic feedback
Learn how our technology works
Discover optimization potential for your HMI
Find the right HAPTICORE product for your application
Our recommended HAPTICORE products
Robust, powerful, and fully customizable
The HAPTICORE 34-P002 is ideally suited for a wide range of kitchen applications. Its performance and technical specifications (temperature range, IP rating, etc.) are optimized for use in white goods appliances.
Small, discreet, and versatile
Our HAPTICORE 14 products impress with their small size yet excellent haptic feedback for single-finger operation. This allows the easy integration of haptic feedback into thumb wheels or flat turntables on panels and even surfaces.